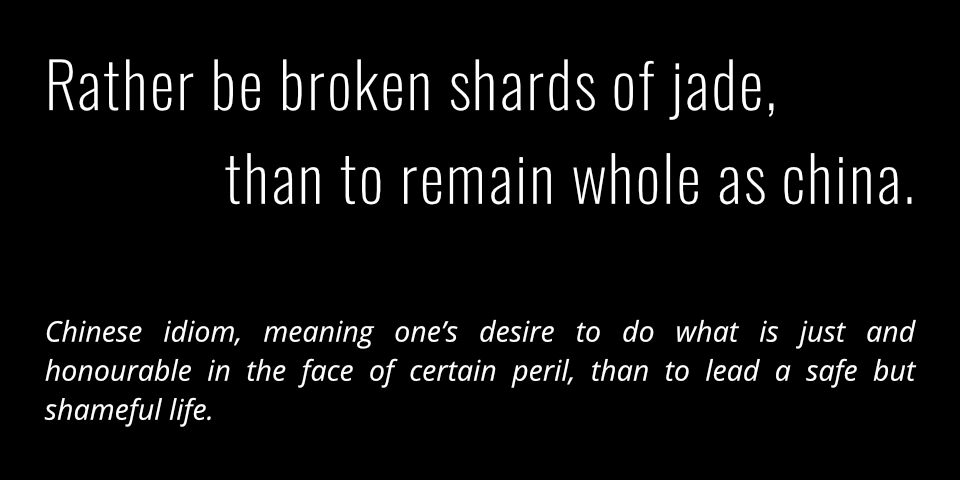 Jade Shards
A downloadable experience
Content Warning: Police brutality, mention of suicide and sexual assault
Jade Shards is a role-playing experience for one or more players, played with a deck of cards, a tumbling block tower, and a way to record the game, such as a smartphone or a journal.
You are one of the student protesters in the university. You protest for freedom, justice, and a better future. Before you knew it, the police has the campus surrounded, and there is no way out.
~~~

Jade Shards is an experience inspired by the Siege of the Hong Kong Polytechnic University in 2019. It was a humanitarian crisis in which the Hong Kong Police Force lay siege to the university, trapping protesters inside for a fortnight. The protesters consist mostly of students from universities and secondary schools, with many of them in their teens. They had their supplies and escape routes cut off, and were under constant assault by the police. Over a thousand protesters were arrested, and hundreds were injured, overwhelming the hospitals.
This experience is about the desperate struggle, and the human capacity to never give up hope.
~~~
This work is based on The Wretched, product of Chris Bissette and Loot The Room, and a submission to the #WretchedJam.
Download
Click download now to get access to the following files:
Jade Shards v1.10 Spreads.pdf
2 MB
Jade Shards v1.10 Pages.pdf
2 MB
Jade Shards v1.10 Spreads-Printer Friendly.pdf
729 kB
Jade Shards v1.10 Pages-Printer Friendly.pdf
736 kB